Thank you to all GCHNA neighbors who keep your property as fire-safe as possible!
GCHNA is a recognized Firewise USA Community.
Help is needed from residents for continued qualification.
To qualify, we are required to report on the ongoing work that residents do each year to reduce wildfire risks, while addressing the areas identified in the community wildfire assessment plan. We must must annually submit a renewal to maintain our "in good standing" status.
Our community's effort to reduce wildfire risk each calendar year is reflected in the risk reduction investment of all the hours worked and dollars spent on our properties.
For 2021, 63 homeowners submitted their mitigation forms that totalled $814,000. This contribution, along with contributions from other Firewise communities, help in getting "in-kind" grants for Nevada County.
PLEASE NOTE: Firesafe Mitigation forms will be accepted up to November 1 (extended from October 1).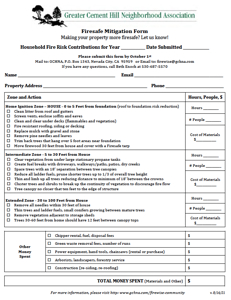 Download the form to mail to GCHNA for reporting annually to Firewise USA.
~~ OR ~~

CLICK HERE to fill out and submit the form online. (Some older web browsers may suggest that it isn't a secure form, but please be assured that It is a secure form.)
Use the form as a guide as you perform defensible space work on your property this year, and then submit by mail or online.
You do not have to be a GCHNA Member to submit a Firesafe Mitigation Form.
FIREWISE COMMITTEE

If you would like to join this very important GCHNA committee as a team member, click here for more information.